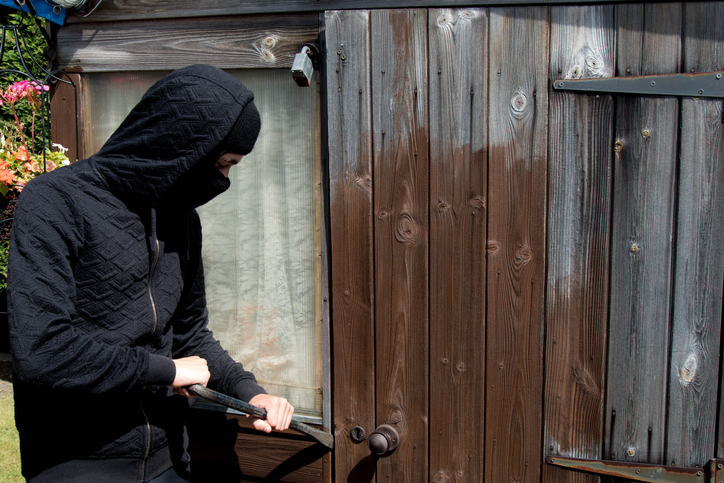 We talk a lot about home security and for good reason. You, your family, and all of your most valuable possessions are inside your home. But there's another area of home security that's often overlooked. It's essential to make sure your garden buildings or outbuildings are well-protected. This includes sheds, summer houses, garden offices, and garages that aren't connected to the house.
Let's take a look at some of the best tips to making sure your garden buildings are secure.
Securing your shed or outbuilding
Lots of us have sheds in the garden and use them to store a range of items – some of which are valuable such as lawnmowers or power tools. So, money spent on security is a worthwhile investment.
Security lights
Most sheds are made from wood so are naturally vulnerable. When securing a wooden shed, your aim is to not only make it difficult to get into, but also ensure that it's obvious to thieves that it's not worth the risk.
Sturdy padlocks that are hard to simply pull apart are a good visual and physical deterrent, but it's also essential to make sure the area is well-lit.
Security lights can be set to activate when someone is close to the shed. This is useful if you need to pop to the shed when it's dark but also deters criminals. Even external lights that you manually set each night or have on a timer can work although they aren't as efficient. 
CCTV and alarms
If you have valuables in the shed, you may want to have a CCTV security system or even an outbuilding alarm fitted. These can be battery operated so if you don't have electricity in the shed, that isn't a problem. Some alarms have a built-in camera which acts as a further deterrent.
Items left outdoors
Items are often left outdoors for one reason or another. Bikes are top of the list, often being stored at the side of the house ready for use the next day. But bikes are extremely vulnerable to theft, especially in London, so a quality bike lock is always a good investment.
You could also get a bike shed to store your bikes in. Bike sheds are smaller than a normal shed, just big enough to slide a bike inside, so they don't take up much space and are an efficient way to ensure your bikes are properly secured.
Reinforcing your fencing
Often a physical deterrent is the most effective kind, so make sure your fencing is sturdy and gates can be locked. CCTV that covers the front and back of your house (and the side if required) is becoming increasingly common on domestic as well as business premises.
We offer a range of gates, grilles and other security measures that offer physical security and a visual deterrent to anyone thinking about breaking in. This can be paired with a top-quality CCTV system to ensure that it is clear your home is well secured.
If you have any questions about home or business security, please contact us. We're happy to help.