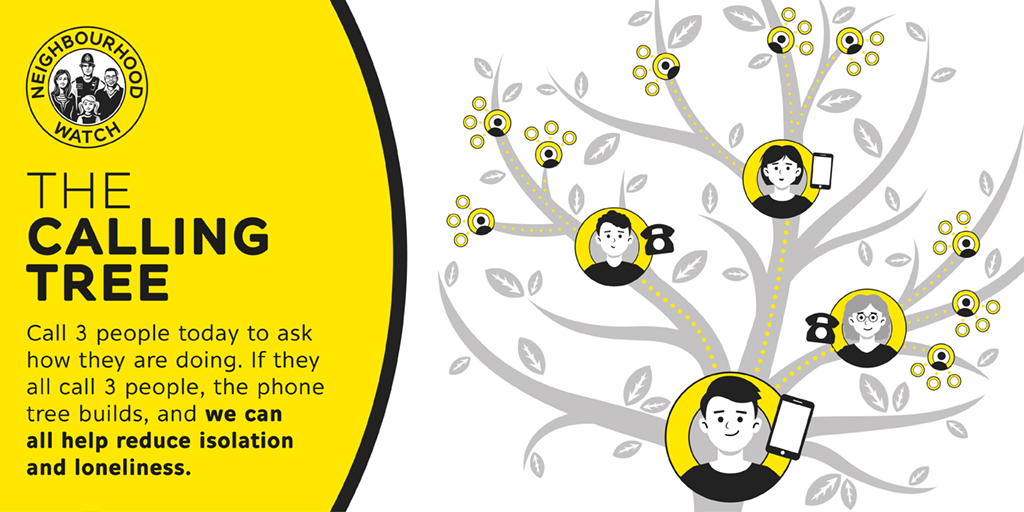 At Security Masters, we're big supporters of Neighbourhood Watch, because we've seen the impact communities can have when they work together. Recently, we reported on the Neighbourhood Watch guidelines for staying safe during the Corona Virus pandemic. You can read the full post here.
As the lockdown goes on, Neighbourhood Watch has launched a new campaign, this time aimed at helping people in our communities who might be suffering most during Social Distancing. Read on to find out why Neighbourhood Watch is encouraging people to set up "Calling Trees," and how this simple idea could benefit your community by providing a lifeline for the most vulnerable amongst us.
"No-one can do everything, but everyone can do something!"
Living in isolation, unable to meet with family and friends face-to-face, communicating using technology such as WhatsApp and FaceTime has become commonplace for many of us. It's easy to forget that some people don't have access to these technologies, or even if they can access them, they find them difficult to use.
Some of the most vulnerable members of our communities such as the elderly or people with mental or physical ill-healthare often the people who are most adversely affected by isolation, and they are also the least likely to connect with others through technology.
The Neighbourhood Watch organisation is challenging communities to set up Calling Trees partly to make sure these people are not forgotten. Here's how it works: "You call 3 people. Those 3 people call 3 people each making 9. Those 9 each call 3 people reaching 27 people. Those 27 each call 3 reaching 81 people. The phone tree builds. Call 3 people today to ask how they are doing. Reduce isolation and stay connected."
Resources to Support The Campaign
If you're interested in setting up a Calling Tree in your area, there are a range of resources available from the Neighbourhood Watch website to help you, including postcards that can be printed to put through neighbourhood letterboxes, images to share on social media and a downloadable campaign pack. 
Who will you call today?
Earlier this year we set up a Neighbourhood Watch scheme in the Eltham Green area. You can read more about it here.
If you are on Social Media, read all about NextDoor, the social media platform that aims to bring together people who live close to one another.
And finally, if you need advice about home or business security contact us by email or call 020 8850 8356. We're following safety guidelines including hand washing and keeping a safe distance so we can continue to provide services to support our customers. Stay safe.