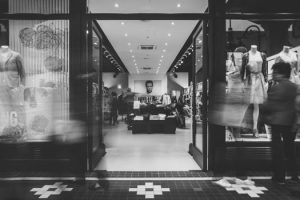 For small business security solutions, there are a load of options on the market, with a number of ways to keep yourself safe and secure. We offer plenty of reliable, effective and affordable ways to physically secure your business and make sure you keep your valuables valuable along with plenty of advice on what's best for you.
The best ways to keep yourself secure are all pretty simple:
Gates and grilles
Shutters
If you're on the hunt for anything to keep your shop or business safe, we can advise you on the best security solutions according to your budget, location and requirements. We work with loads of pubs, leisure companies, retailers and small business, so we have plenty of knowledge and experience.
All our options keep things very simple, so you won't have to install anything overly complex or massively costly. We know that the important thing is keeping things locked away with no complicated or costly unnecessary additions.
One of our most popular options are our steel reinforcements to doors and door frames. These work simply by making your doors more durable, sturdy and reliable.
We also install collapsible gates and grilles to go across your shop windows to deter any potential intruders. We fit grilles and gates in a number of styles including retractable, collapsible, lattice and concertina-style options. These ones are all super easy to use, and slide in and out simply and easily. We also have sliding and swinging gates with loads of sizes and options.
If you want something simple but massively effective, shutters are perhaps your best option, with retractable shutters, automated and electric shutters, roller ad shutters and box and guide roll window shutters. These mean that you have freedom and flexibility, as they don't interfere with the basic structure of your windows or doors – they simply offer a barrier between your property and any potential light-fingered thief.
All of our choices are super easy to use, so you won't have any complications and shouldn't need any costly repairs. We can offer advice on what's best for you and on how best to keep yourself safe once you're fitted up. All of our options can also be used alongside other services like videophones and CCTV if you want extra layers of security.
All of our fitters are experienced, skilled and fully qualified, and can offer top-notch fitting alongside excellent advice and guidance. You can get in touch for a quotation or advice, all of which comes with no obligation to buy. Small business security solutions can chuck up some tricky and confusing dilemmas, so let us tell you the best solutions for your needs, then take your pick from our options if we take your fancy.
Pick our brains and pick the best!